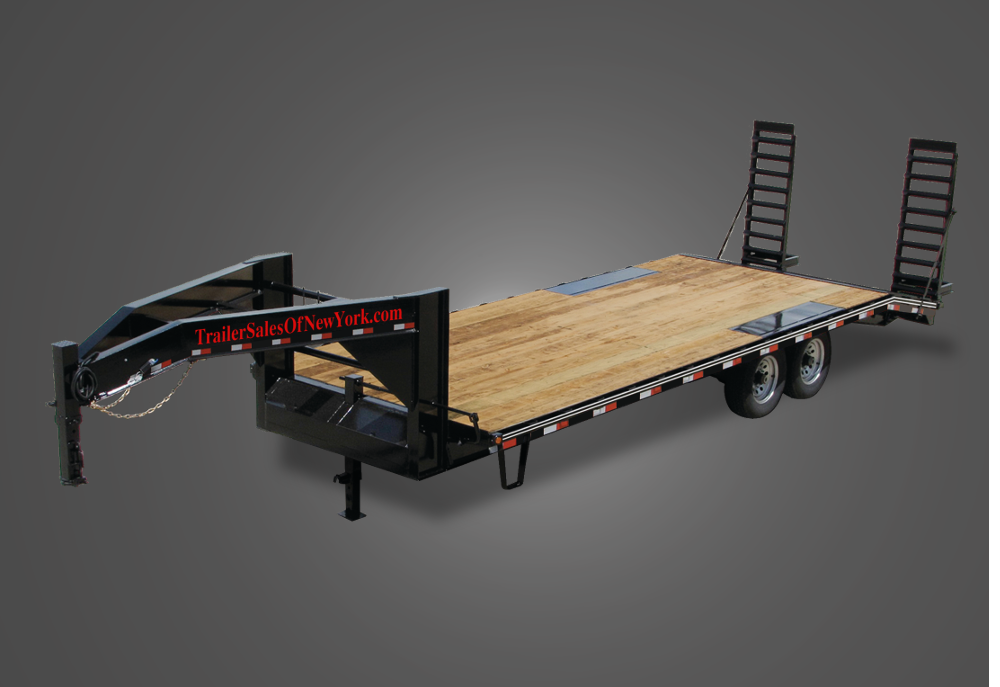 $8,295.00 Factory Direct
Trailer Sales of New York's light duty Regular 14000 GVWR Flatbed Gooseneck Trailer is built with an 8″ I-beam main frame and tongue with 3″ channel cross members on 25″ centers and a 4″ flatbar outer rail with stake pockets and rub rail. The bed length is 20′ of flat with a 4′ dovetail. The running gear features two 7,000 lb. heavy duty 8 lug axles with 235/80 R16 load range E radial tires. We use a steel plate over the tires for added durability in this high stress area and to minimize the deck height for easy loading of equipment. Standard features include a 2 5/16″ adjustable gooseneck coupler, 12K drop foot jack, and tool tray. There are stake pockets with rub rail the full length of the bed. Flooring is pressure treated wood. A 4′ dovetail with swing up loading ramps makes loading your equipment easy. Conventional wiring with rubber mounted sealed beam lights and skip reflective tape finish out our entry level Regular 14000 GVWR Flatbed Gooseneck Trailer.
NO HIDDEN FEES!!! WE QUOTE AN "OUT THE DOOR" PRICE OVER THE PHONE!!!
NO Document, Freight, or Assembly fees added. You pay ONLY the listed price plus state sales tax and actual title fees.
Specifications
| | |
| --- | --- |
| G.V.W.R. | 14,000 lb. - Approx. Empty Weight - 4,200 lb. - Capacity - 8,000 lb. (frame limited) |
| Electrical | Sealed beam rubber mount lights, conventional wiring and connectors |
| Frame | W8x10 ppf I-beam frame with 3 in channel crossmembers 25 in. o.c. - 4 in. flatbar side rails |
| Dovetail | 4 ft. dovetail |
| Tongue | 8" I-beam neck with 10" I-beam uprights |
| Tires | 235/80 R16 LRE (3,520 lb.) Radial |
| Floor | 2 in. treated wood |
| Coupler | 2-5/16 adjustable gooseneck coupler |
| Safety Info | Break away kit, safety chains, and skip reflective tape |
| Ramps | 5' swing up loading ramps |
| Tiedowns | Stakepockets and rub rail |
| | |
| --- | --- |
| Deck Length | 24 ft. (20 ft. flat + 4 ft. dovetail) |
| Deck Height | 33 in. (loaded) |
| Deck Width | 96 in. (101 in. at outside of rub rails) |
| Fenders | Steel plate over tires |
| Brakes | All wheel electric brakes |
| Tailgate | N/A |
| Wheels | Silver or White Mod (based on stock) |
| Jack | 12,000 lb. drop foot jack |
| Axles | 2 HD 7,000 lb. 8 lug e-z lube braking axles |
| Suspension | HD slipper spring suspension |
| Toolbox | Tool tray |
| Finish | Primed, 2 coats of automotive grade enamel |