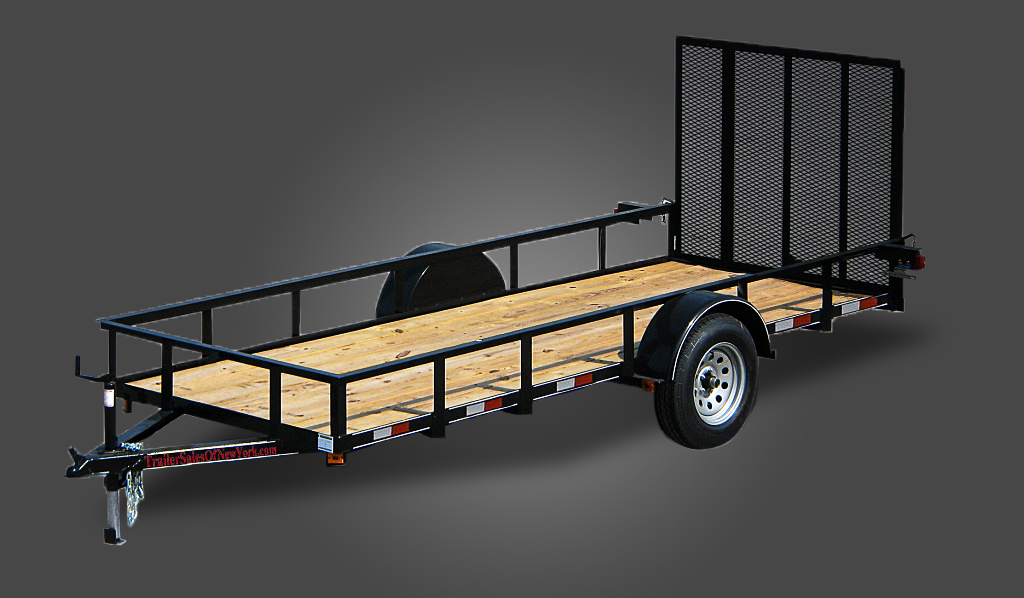 Our 2990 GVWR Regular Single Axle Utility Trailer adds heavier main frame rails over the Base model. The main frame rails are 3x3x3/16 angle iron with 2x2x1/8 uprights and top rails. The tongue is 3″ channel. Running gear is a 3,500 lb. spring axle and 205/15″ load range C radial tires. We offer this trailer in any combination of 60″ or 77″ wide and 10′ or 12′ long. The 77″ wide model will accommodate a wider deck mower, a wider ATV, or a side by side. Included features are an easy to use full width swing up landscape gate, a tongue jack, pressure treated flooring, and DOT compliant lighting with reflective safety tape. The finish is a high quality primer with two coats of high quality paint with hardener. We challenge you to find a better value in New York than we offer for this 2990 GVWR Regular Single Axle Utility Trailer. Check us out before you buy!
NO HIDDEN FEES!!! WE QUOTE AN "OUT THE DOOR" PRICE OVER THE PHONE!!!
NO Document, Freight, or Assembly fees added. You pay ONLY the listed price plus state sales tax and actual title fees.
Specifications
| | |
| --- | --- |
| G.V.W.R. | 2,990 lb. - Approx. Empty Weights - 800 lb. to 1,200 lb. Capacity - 1,800 lb. to 2,000 lb. |
| Electrical | DOT approved lights, wiring, and connectors |
| Frame | 3 in. x 3 in. x 3/16 in angle frame, 2 in. x 2 in. x 1/8 in. angle uprights and top rail |
| Dovetail | N/A |
| Tongue | 3 in. channel |
| Tires | 205/75 D15 LRC (1,820 lb.) radial |
| Floor | 2 in. treated wood |
| Coupler | 2 in. 5,000 lb. a-frame coupler |
| Safety Info | Reflective tape, and safety chains |
| Ramps | N/A |
| Tiedowns | N/A |
| | |
| --- | --- |
| Deck Length | 10 ft. or 12 ft. |
| Deck Height | 18 in. (loaded) |
| Deck Width | 60 in. or 77 in. |
| Fenders | Fenders and backs |
| Brakes | In stock on 77 in. x 12 ft. models |
| Tailgate | 4 ft. expanded metal tailgate |
| Wheels | Silver or white mod (Based on stock) |
| Jack | Top wind jack |
| Axles | 1-3,500 lb. e-z lube axle |
| Suspension | Double eye springs |
| Toolbox | N/A |
| Finish | Primed, 2 coats of automotive grade enamel |
Additional Options
| | |
| --- | --- |
| Spare Tire - CastleRock 205/15 LRC | $150 |